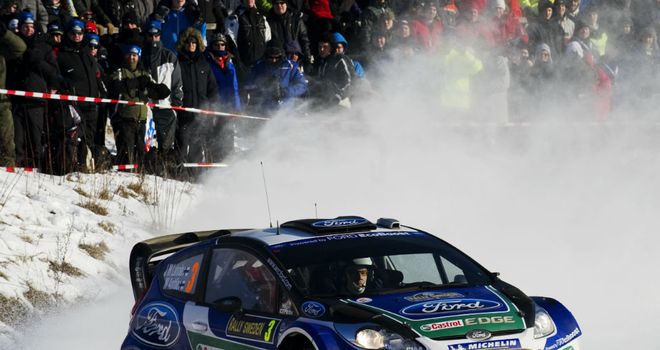 Jari-Matti Latvala has taken his second Swedish triumph, his sixth career WRC victory.
After an early day 2 scrap with former team-mate Mikko Hirvonen, and despite a puncture on SS22, Latvala controlled from the front on day 3 to defeat Hirvonen by 16.6 seconds. In addition to picking up his first 25 points of the season, Latvala also picked up one point for third place in the Power Stage, which was won by Sébastien Loeb with Peter Solberg taking two points for second best time.
No one argue that this win was a long time coming for Latvala who has matured into a proper championship contender. Ford's lead driver scored his first WRC victory in Sweden in 2008 and today he returns to the top step of the podium in the gorgeous white winter land. "I won this rally four years ago and now I have won it again" said an ecstatic Latvala. "I am really happy for the team and Petter did a very good job. We still have a lot of work to do, but we want to fight with Citroen this season. It is really special to win here, four years after I won my first rally here. This is the first rally I have won two times. We had a lot of pressure following Monte-Carlo and this takes all that pressure off. I think we are going to really challenge Citroen, because we are working so hard," concluded the happy Finn.
Mads Ostberg made the most of a puncture from Petter Solberg as well as putting in a spirited drive on Sunday to complete the podium, his second such performance two-years running in Sweden after he took second in 2011. Solberg had to settle for fourth place ahead of Evgeny Novikov, who takes his second top five result of the season.
Sébastien Loeb had a long weekend, including time lost with spin, getting caught in a snow bank and punctures, and had to push hard on Sunday to overtake Henning Solberg for sixth place. But he retains his lead in the championship thanks to his best time on the Power Stage. Patrik Sandell was the only Mini to finish in the points, after the engine in Dani Sordo's JCW WRC gave out on day one. The Sweden gave his countryman something to cheer for with an eighth place showing. Martin Prokop scored points for a second consecutive round in taking ninth, while Eyvind Brynildsen scored a world championship point in his maiden WRC outing.
POWER STAGE
1 Loeb 3pts
2 P. Solberg 2pts
3 Latvala 1pt
TOP TEN
1 Latvala
2 Hirvonen +16.6s
3 Ostberg +38.8s
4 P. Solberg +1:14.3s
5 Novikov +2:41.4s
6 Loeb +2:55.0s
7 H. Solberg +3:49.5s
8 Sandell+5:08.9s
9 Prokop +5:30.0s
10 Brynildsen +6:27.1s
DRIVER CHAMPIONSHIP
1Loeb 39 points
2 Hirvonen 32
3 P. Solberg 29
4 Latvala 26
5 Novikov 21
6 Sordo 18
7 Ostberg 15
8 Delecour 8
9 Campana 6
= H. Solberg 6