The Ferrari F12 Berlinetta has been officially unveiled ahead of the Geneva Motor Show.
The replacement for the 599 has a number of improvements over the outgoing model. Horsepower gets a massive bump, from 611 to 730; 509 lb-ft of torque is on tap, with 80 percent available at just 2,500 rpm. Curb weight drops from 3,722 pounds to 3,362 pounds, 56 percent of which rests over the rear axle. The F12 has a drag coefficient of 0.299 and stronger downforce compared with the 599, and structural rigidity improves by 20 percent. The all-new aluminum chassis was designed by Scaglietti and incorporates a dozen alloys. Basically, it's everything you want in a next-step Ferrari: stronger, stiffer, lighter and more powerful.
Also, it's gorgeous. The F12 Berlinetta, a styling collaboration between Pininfarina and Ferrari's in-house styling team, is lower and shorter compared with the 599, with a long hood, prominent headlights, the same slick grille seen on the FF and a sweeping, muscular frame.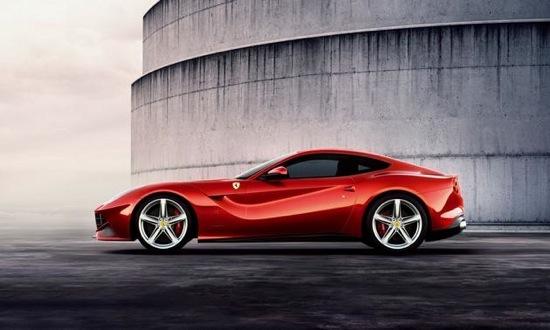 As expected, the F12 is based on a mid-front-engine configuration with a transaxle layout. The 599's 6-speed automated manual transmission is out, replaced by an F1-style dual-clutch gearbox. The naturally aspirated 6.3-liter V12 engine -- cylinders are banked at 65 degrees -- help push the F12 to a top speed of 211 mph and can blast the car from standstill to 60 mph in just 3.1 seconds. Its time around the Fiorano circuit, at 1:23, is faster than any other Ferrari of the road-going variety.