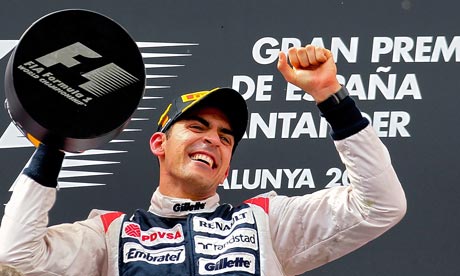 Venezuela's Pastor Maldonado claimed his maiden Formula One win, and handed Williams their first since 2004, with victory in the Spanish Grand Prix here on Sunday.

Spaniard Fernando Alonso finished second with Finn Kimi Raikkonen in third as Maldonado made the most of inheriting pole position from Lewis Hamilton after the Briton was relegated to the back of the pack on Saturday.

McLaren driver Hamilton finished in eighth place at over a minute behind as Maldonado won a thrilling duel with Ferrari's former two-time world champion Alonso.

Alonso's runner-up place gave him 18 points and the championship lead at the expense of defending world champion Sebastian Vettel, who was sixth in a Red Bull having started from seventh on the grid.

Maldonado's maiden win handed Williams their 114th overall, but their first in the series since fellow South American Juan Pablo Montoya won the Brazilian Grand Prix in 2004.
Pos Driver Team Time
1. Maldonado Williams-Renault 1h39:09.145
2. Alonso Ferrari + 3.195
3. Raikkonen Lotus-Renault + 3.884
4. Grosjean Lotus-Renault + 14.799
5. Kobayashi Sauber-Ferrari + 1:14.641
6. Vettel Red Bull-Renau + 1:17.576
7. Rosberg Mercedes + 1:27.919
8. Hamilton McLaren-Mercedes + 1:28.100
9. Button McLaren-Mercedes + 1:25.200
10. Hulkenberg Force India-Mercedes + 1 lap
11. Webber Red Bull-Renault + 1 lap
12. Vergne Toro Rosso-Ferrari + 1 lap
13. Ricciardo Toro Rosso-Ferrari + 1 lap
14. Di Resta Force India-Mercedes + 1 lap
15. Massa Ferrari + 1 lap
16. Kovalainen Caterham-Renault + 1 lap
17. Petrov Caterham-Renault + 1 lap
18. Glock Marussia-Cosworth + 2 laps
19. De la Rosa HRT-Cosworth + 3 laps