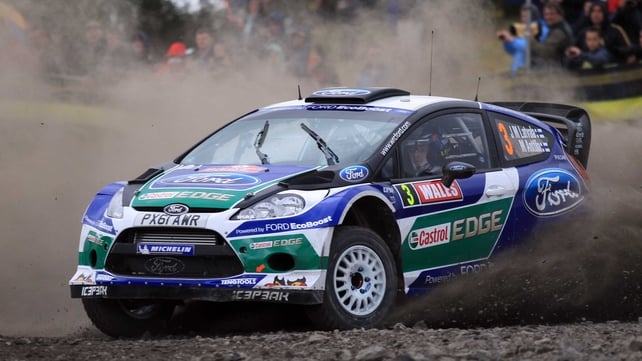 Finland's Jari-Matti Latvala won the Wales Rally GB on Sunday, ending reigning champion Sebastien Loeb's run of five-straight victories in the World Rally Championship.
Latvala won by 27.8 seconds, his first taste of victory since February in an otherwise disappointing season and the first win for his Ford team since Portugal in April.
Citroen's Loeb took second place by just 0.9 seconds from Latvala's teammate Petter Solberg, with Mads Ostberg fourth.

The result increases Loeb's championship lead over teammate Mikko Hirvonen and leaves the Frenchman in a near-impregnable position with three rallies remaining.
Hirvonen was fifth but took the three bonus points for being fastest on the Power Stage. Russian driver Evgeny Novikov came in sixth, working with replacement co-driver Ilka Minor because of an injury to his regular co-driver.
Wales Rally GB: Overall standings
1. Jari-Matti Latvala Ford WRT Fiesta RS WRC 3hours 03mins 40.3secs M
2. Sebastien Loeb Citroen Total WRT DS3 WRC +00mins 27.8secs M
3. Petter Solberg Ford WRT Fiesta RS WRC +00mins 28.7secs M
4. Mads Ostberg Adapta WRT Fiesta RS WRC +01mins 10.6secs M
5. Mikko Hirvonen Citroen Total WRT DS3 WRC +01mins 29.5secs M
6. Evgeny Novikov M-Sport Ford WRT Fiesta RS WRC +03mins 37.0secs M
7. Thierry Neuville Citroen Junior WRT DS3 WRC +04mins 11.9secs M
8. Matthew Wilson M-Sport Ford WRT Fiesta RS WRC +06mins 00.4secs
9. Martin Prokop Ford Fiesta RS WRC +06mins 58.9secs
10. Nasser Al-Attiyah Qatar WRT Citroen DS3 WRC +09mins 32.1secsM